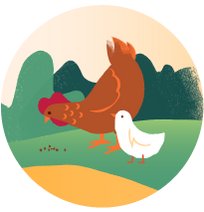 Discover Free-Range
Dakota Layers' free-range eggs come from our happiest, healthiest hens. These layers enjoy the best of both worlds, including an indoor environment for safety and an outdoor environment for exploration.

Find a Store Near You
Use the store locator to find fresh, delicious eggs near you.
More About Free-Range Eggs
Free-range eggs come from hens who can roam in and out of their barns, enjoying both indoor and outdoor habitats. Like cage-free layers, free-range layers live in barns with plenty of habitat enrichments and access to the outdoors. Their environments help them relax, practice natural behaviors, and lay great eggs.



Why We Love Being Free-Range
Dakota Layers' free-range eggs come from hens fed an all-vegetarian diet with no animal by-products. Our hens enjoy a better lifestyle, and you'll enjoy a distinctively rich yolk that sets these eggs apart from other supermarket brands. At Dakota Layers, there's an egg perfectly tailored to your family's preferences. Browse our full selection of egg products to learn more.
Our Eggs
Explore the Heart of Dakota Layers