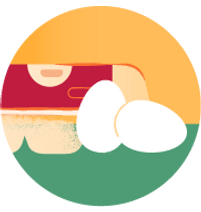 Discover Classic
Ethical animal treatment and superior products are the top priorities on our egg farm. The conventional setting gives us the greatest amount of control over the hens' diet, safety, and environment. We make sure our hens receive excellent care and that their top-tier treatment results in top-tier eggs.


Find a Store Near You
Use the store locator to find fresh, delicious eggs near you.
More About Classic Eggs
"Classic", or conventional, eggs come from hens in an indoor farm setting. Even in a caged environment, our hens receive compassionate treatment and have access to high-quality feed and water at all times. Our cutting-edge belt system ensures that the habitat is clean by cycling manure out of the barns and repurposing it for local farms. To offer the best eggs around, we utilize specific collection methods to make sure that a human never touches these eggs until they're in the carton, making them amongst the safest and the freshest.


Why We Love Being Classic
You can feel confident in the quality of our classic eggs and the ethical farming practices that produced them. We feed our hens a superb diet that keeps them happy and their product healthy. We're confident you'll find an egg that fits your family's needs at Dakota Layers. Check out our full range of products to learn more.
Our Eggs

Explore the Heart of Dakota Layers