White Eggs
Sizes Available
Medium, Large, Extra Large, Jumbo, Super Jumbo

Our classic white eggs come from hens raised in a traditional farm setting. These delicious eggs are packed with protein and essential nutrients!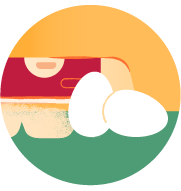 Find Your Nearest Store
Plastic
Our plastic cartons are 100% recyclable and made from recycled BPA-free RPET plastic. See what you're buying without needing to open the carton. This means there is a dramatic reduction in egg handling by other shoppers, making plastic cartons a more hygienic option.
Foam
Our polystyrene foam cartons give our eggs superior protection. These egg cartons may or may not be recyclable by certain operations; if your local community does not collect and recycle foam egg cartons, you may send clean cartons to:

Dolco Packaging
PO Box 1005 2110 Patterson St.
Decatur, IN 46733-5005
Overwrap
This packaging type includes cardboard flats that are wrapped and sealed with a plastic film. Like plastic cartons, the clear film gives consumers the ability to see what they are buying, without needing to open the carton or touch the eggs. This reduces the amount of egg handling which is ultimately more hygienic.
Large White Eggs

Calories: 70
Carbohydrates: 0g
Fat: 5g
Protein: 6g
Cholesterol: 185mg
Sodium: 65mg

Large white eggs also provide more than 30% of your daily recommended serving of vitamins D & E!
We offer our classic white eggs in medium, large, extra large, jumbo, and super jumbo sizes! We also sell them in packs of 6, 12, 18, and 30.




We're Crazy About Fresh
We hope you are, too. Learn more about Dakota Layers!
Browse Our White Egg Options